COVID POLICIES
Mask Update Effective 11/20/2021
Pursuant to the change in "Case Rate" in Montgomery County, effective 11/20/2021, MASKS are required inside Congregation B'nai Tzedek.
As the Board of Directors has voted to follow Montgomery County as it relates to masking and with the constantly changing Covid situation, our policy regarding masks will remain fluid. As we conform to the regulations, the health and well-being of our congregants will remain our primary concern, while trying to offer as many in-person safe programming opportunities as possible.
**Please note that there will be no in person services on Friday, December 24th and Friday, December 31. These services will be held via ZOOM ONLY. Click here to join! Our offices will be closed on the 24th and 31st.**
Chanukah Events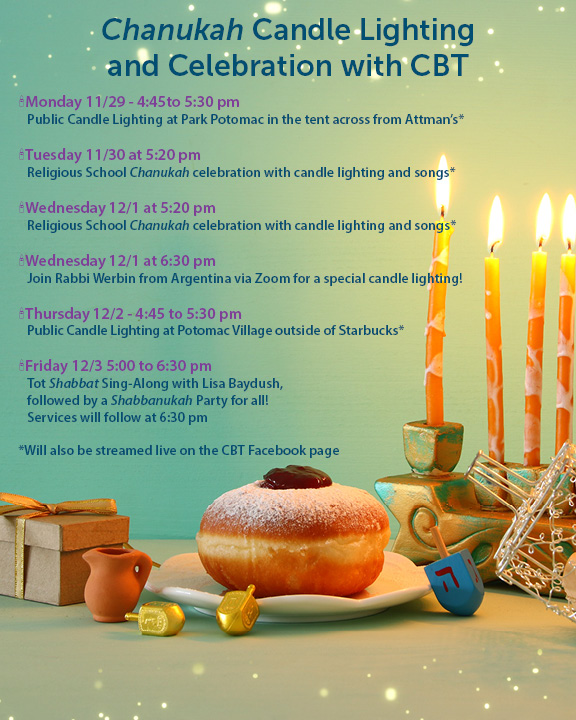 The Great Latke Bake Off
Thursday, December 2
Teams will make latkes or other treats for the CBT community to enjoy at the Shabbanukah party the next day! Join a team or sign your team up for a slot by emailing Ashley here!
Do You Want To Watch Services?
Use the following link for virtual Shabbat Services:
REMINDER: SHABBAT SERVICES ARE NOW HELD LIVE AT CBT, NO RESERVATION REQUIRED AND MASKS ARE REQUIRED.
Use the following for weekday virtual Minyan services:
Click here to access the virtual Minyan on Zoom, password required. If you need the password, please contact Amy Steinborn.
Upcoming Programs
Torah Study every Thursday @ 9:30 am with Rabbi Weinblatt
Whether you have studied previously or not, join Rabbi Weinblatt and other congregants for a lively and stimulating study session. Each Thursday we will look at the Torah portion for that week and study and discuss aspects of the insights and wisdom of our sages and tradition.
This class will be hybrid- if you feel comfortable and are fully vaccinated, please join Rabbi Weinblatt at CBT Thursday morning in the Library. If you are not comfortable yet being inside, not a problem!
Rabbi Weinblatt's Torah Study class will still be streamed on Zoom HERE
!
Please note that a copy of Covid vaccination or negative Covid PCR test from within 48 hours is required for this event for persons age 12 and above who are eligible for vaccination.
Welcome To B'nai Tzedek, A Modern Conservative Synagogue
Sun, December 5 2021
1 Tevet 5782
New Yahrtzeit Policy
Effective July 2022, we will only be sending Yahrzeit notifications for those individuals for whom one is required to say kaddish: parents, siblings, spouses and children and those who have been memorialized with a plaque on the Burtoff Memorial Wall. If you would like to continue to receive notification of other Yahrtzeits, you can let us know by clicking here.
JOIN OUR SERVICE
Service Schedule
Monday - Thursday night 7:00 pm
Wednesday mornings at 8:00 am
Friday night at 6:30 pm
Saturday mornings at 9:30 am.
A digital copy of Siddur Sim Shalom is available
HERE
.
Mazel Tov Us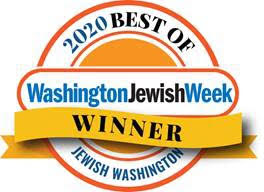 Best Of...
Preschool
Hebrew School
Family-Friendly Shabbat
Special Needs Shabbat
Kiddush
Sun, December 5 2021 1 Tevet 5782