Join Us
Learn. Play. Pray. Support. Explore. Connect.
We welcome you to join us and enrich your personal Jewish experience.
Regardless of where you are on your personal journey, Congregation B'nai Tzedek will enhance your life with opportunities to spend quality time with your family, easily make new friends, and enjoy the feeling of being part of your own unique Jewish community. We're Israel advocates on the local, national and international scenes and leaders in tikkun olam for the Greater Washington Jewish Community. And we offer engaging and enlightening educational, spiritual and social programs for all ages and interests
We recognize that needs change over time and therefore we continually challenge ourselves to innovate and meet our congregants where they are in life—whether that's through a flexible fee structure that evolves with your life stage, programs that go beyond our own walls, or a capital campaign to insure that we're constantly innovating and poised and ready to meet the needs of a changing world.
Here's a sampling of the communities and activities we have here at B'nai Tzedek.
Young Families
The Greenzaid Early Childhood Center (ECC) is the ideal setting for young minds to grow with programs for babies through Pre-K. The Bernice & Mannie Rabvosky Religious School is a highly innovative and social learning center for children in grades K-12. Ask about our young family gatherings and couples retreat with Rabbi Weinblatt.
"CBT has given us a community, both inside the synagogue and outside. Most of the people we hang out with and are friends from the synagogue. The kids walk around the house singing prayers and songs that they learned here! It has definitely enhanced our religiosity."
Parent of Children Ages 6 & 3
"Once you have kids and are active, CBT bring you a sense of heritage and you know you are part of something."
Parent of Children Ages 12 & 8
Sisterhood & Brotherhood
B'nai Tzedek Sisterhood and Brotherhood are active, vibrant, groups of members of diverse interests, ages, and Jewish backgrounds. We share a desire to make a positive contribution to synagogue life and to be a part of a warm, supportive community. We invite you to join us and make friends for life!
Empty Nesters
Suddenly our children were off to college and we had time to play. We created B'nai Boomers to get out and enjoy new experiences with our peers – everything from bowling to exploring museums, wine tastings, workshops and everything in between.
"CBT is wonderful. I love the services, the people are kind, we have a lot of connections, and it is a beautiful setting."
Founding Member with Grown Children

Hazak
A social group for retirees, Hazak provides a variety of social and educational programs, celebrations, speakers and tours of local sites.
Helping Others
Helping others in our community is a hallmark of our congregation. We look for opportunities for meaningful engagement with our members, from our Caring Community who support congregants in times of need, to our Inclusion Committee who ensure all members and guests have access to all we have to offer. Our Social Action Committee gives back to our local Montgomery County community through fun and social volunteer activities.
Please contact the synagogue office with any questions, to join us for any of our services or programs.
Sat, May 15 2021
4 Sivan 5781
What's Happening at CBT
All Events
Sunday

,

May

May

16

,

2021

Last Day of Sunday Religious School (Gr. K-6)


Sunday, May 16th

9:00a

to

12:00p




Sunday

,

May

May

16

,

2021

Shavuot Under the Stars "Sources of Healing and Hope" with Congregation Har Shalom


Sunday, May 16th

7:00p

to

10:00p




Wednesday

,

May

May

19

,

2021

Wise Aging JSSA Support Group


Wednesday, May 19th

1:00p

to

2:00p




An opportunity to share and discuss challenges and opportunities presented by new phases in our lives.

Wednesday

,

May

May

19

,

2021

Upper School End of Year Celebration!


Wednesday, May 19th

7:00p

to

8:15p




Thursday

,

May

May

20

,

2021

Torah Study with Rabbi Weinblatt


Thursday, May 20th

9:30a

to

10:30a




We will pick up the story of King David with II Samuel Chapter 13 and conclude the Second Book of Samuel.

Thursday

,

May

May

20

,

2021

Bedtime stories, songs and Shema with Rabbi Tow


Thursday, May 20th

7:00p

to

7:15p




Say Laila Tov with songs, stories and the Shema.

Friday

,

May

May

21

,

2021

Shabbat Sing with Cantor Kapell


Friday, May 21st

10:00a

to

10:15a




Join the fun and get ready for Shabbat with singing and dancing!

Friday

,

May

May

21

,

2021

RS: Chagigat HaSiddur 4th Grade Consecration- Group Alef


Friday, May 21st

6:30p

to

7:30p




Saturday

,

May

May

22

,

2021

Brent Langer Bar Mitzvah
Shabbat, May 22nd (All day)


Sunday

,

May

May

23

,

2021

Abraham Accords with Mark Vandroff


Sunday, May 23rd

7:30p

to

8:30p




We welcome Mark Vandroff, a senior director for defense policy at the National Security Council and a retired Navy captain. He was involved in negotiating the Abraham Accords, the normalization agreement between Israel and the United Arab Emirates which has since come to include Bahrain, Sudan, and Morocco as well.
COVID-19 FORMS
WAIVER: Each adult needs to complete a waiver before entering the synagogue grounds and building. One parent should include the children on their form. Print this form and send to the synagogue or bring it with you.
HEALTH QUESTIONNAIRE: Everyone should bring the following Covid Health Questionnaire with them each time they come to the synagogue. Print this form and bring it with you.
COVID RESTRICTED TRAVEL: Which states has Maryland place on the travel restriction list. Click for more information.
Mazel Tov Us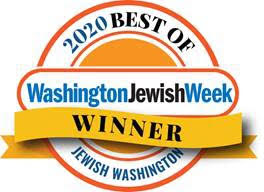 Best Of...
Preschool
Hebrew School
Family-Friendly Shabbat
Special Needs Shabbat
Kiddush
Sat, May 15 2021 4 Sivan 5781