Worship
THE NATURE OF OUR WORSHIP SERVICES
At B'nai Tzedek we strive to create an atmosphere in our services that combines the best of traditional prayer with contemporary and modern expression. We want our congregants and guests to feel welcome, and to find joy, meaning and spirituality. It's important to us that when you attend services here you feel you are in a Jewish setting, where the tradition speaks to you in a way that's meaningful and relevant.
"When planning our services, I've always been guided by the Talmud which teaches that if a person has not added to their own prayers and hasn't incorporated their own personal expression to the words, it's as if they haven't prayed." - Rabbi Stuart Weinblatt
We strike a balance of Hebrew and English
English readings and passages are incorporated into the service, and integrated into the familiar traditional prayers to enhance the sense of spirituality and our connection to our heritage. The prayerbooks we use include historical notes and modern interpretations of traditional prayers allowing worshippers to explore and delve into the text.
Sermons you'll want to stay for.
Rabbi Weinblatt and Rabbi Tow's sermons are engaging and thought provoking, covering a wide spectrum of topics as he skillfully weaves Jewish values and teachings with references to today's issues. Whether regarding the State of Israel, family life, world events, or personal issues, they keep Judaism relevant in today's changing world. Rabbi Weinblatt is well-known for his use of humor sprinkled throughout his sermons which keeps them lively and engaging.
Music. Music. Music.
Music is an important component of our services. Cantor Kapell encourages congregants of all ages to find spirituality through music and song. In addition to his own beautiful voice, it's not unusual to hear him in a duet with any number of our talented members of all ages. On the second Friday of the month, come and experience our musical Shabbat, with instruments integrated into our liturgy in our beautiful sanctuary. We always look for opportunities to use music to celebrate, such as when we incorporated modern Israeli music into the melodies for the Kedushah on Yom Yerushalayim.
Participate, please.
Congregants and guests are encouraged to participate in our services, sometimes on the bimah and sometimes from their own seats. On Shabbat mornings, Rabbi Weinblatt will often lead a discussion of the week's Torah portion, making it relevant to what's happening in today's world. On Yom Kippur the Rabbi leads an afternoon discussion about a relevant topic that's grown so popular that more and more people attend each year making for lively and dynamic discussions.
We love our Fridays.
Friday night services are short but very sweet. For one hour, we warmly welcome Shabbat with the beautiful music of Kabbalat Shabbat. Before Ma'ariv services we reflect privately on our lives as the rabbi sets the mood of individual meditation. We share in celebration of our b'nai mitzvah and in summers we hold casual services outside on our wooded grounds. If you haven't attended our annual MLK Shabbat with a Gospel Choir from a local church, make it a must-attend next year.
Families warmly welcome.
All of our services are family friendly and we regularly schedule tot Shabbat and child-focused Shabbat Services. On the high holidays there's children's programming for all ages. Parents of babies and young children asked for a special seating area where they can feel comfortable sitting with other parents, while remaining engaged in the service. The youngest of children will enjoy the music and the shared community.
Join us?
Have we convinced you to visit and attend a service? We'd love to have you join us. Please contact Heather Glick and let her know you are coming. You'll receive a warm welcome.
Sat, May 15 2021
4 Sivan 5781
What's Happening at CBT
All Events
Sunday

,

May

May

16

,

2021

Last Day of Sunday Religious School (Gr. K-6)


Sunday, May 16th

9:00a

to

12:00p




Sunday

,

May

May

16

,

2021

Shavuot Under the Stars "Sources of Healing and Hope" with Congregation Har Shalom


Sunday, May 16th

7:00p

to

10:00p




Wednesday

,

May

May

19

,

2021

Wise Aging JSSA Support Group


Wednesday, May 19th

1:00p

to

2:00p




An opportunity to share and discuss challenges and opportunities presented by new phases in our lives.

Wednesday

,

May

May

19

,

2021

Upper School End of Year Celebration!


Wednesday, May 19th

7:00p

to

8:15p




Thursday

,

May

May

20

,

2021

Torah Study with Rabbi Weinblatt


Thursday, May 20th

9:30a

to

10:30a




We will pick up the story of King David with II Samuel Chapter 13 and conclude the Second Book of Samuel.

Thursday

,

May

May

20

,

2021

Bedtime stories, songs and Shema with Rabbi Tow


Thursday, May 20th

7:00p

to

7:15p




Say Laila Tov with songs, stories and the Shema.

Friday

,

May

May

21

,

2021

Shabbat Sing with Cantor Kapell


Friday, May 21st

10:00a

to

10:15a




Join the fun and get ready for Shabbat with singing and dancing!

Friday

,

May

May

21

,

2021

RS: Chagigat HaSiddur 4th Grade Consecration- Group Alef


Friday, May 21st

6:30p

to

7:30p




Saturday

,

May

May

22

,

2021

Brent Langer Bar Mitzvah
Shabbat, May 22nd (All day)


Sunday

,

May

May

23

,

2021

Abraham Accords with Mark Vandroff


Sunday, May 23rd

7:30p

to

8:30p




We welcome Mark Vandroff, a senior director for defense policy at the National Security Council and a retired Navy captain. He was involved in negotiating the Abraham Accords, the normalization agreement between Israel and the United Arab Emirates which has since come to include Bahrain, Sudan, and Morocco as well.
COVID-19 FORMS
WAIVER: Each adult needs to complete a waiver before entering the synagogue grounds and building. One parent should include the children on their form. Print this form and send to the synagogue or bring it with you.
HEALTH QUESTIONNAIRE: Everyone should bring the following Covid Health Questionnaire with them each time they come to the synagogue. Print this form and bring it with you.
COVID RESTRICTED TRAVEL: Which states has Maryland place on the travel restriction list. Click for more information.
Mazel Tov Us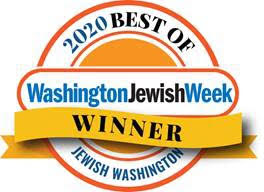 Best Of...
Preschool
Hebrew School
Family-Friendly Shabbat
Special Needs Shabbat
Kiddush
Sat, May 15 2021 4 Sivan 5781