Kashrut Guidelines
Kashrut Guidelines
Kashrut Guidelines
POLICY STATEMENT REGARDING KASHRUT INSIDE AND OUTSIDE THE SYNAGOGUE*
The observance of kashrut is one of the basic tenets of Conservative Judaism. To this end, all events sponsored by Congregation B'nai Tzedek shall follow the guidelines of the Conservative movement as articulated in this document.
Food served at all events held at the synagogue, whether sponsored by B'nai Tzedek or not, shall either be prepared in the synagogue's kitchen by a caterer or an auxiliary organization of the synagogue (Sisterhood, Brotherhood nursery or religious school, etc.). Such preparation must be done with the absolute assurance that the observance of kashrut is uncompromised, or purchased from an approved kosher vendor.
For synagogue-sponsored events held by any organization, auxiliary group or committee affiliated with B'nai Tzedek that are held outside the facility, the following guidelines shall govern our policy:
1. It is preferable for events to be held in a restaurant that has been certified as kosher by the Orthodox Rabbinical Council or by the Metropolitan Rabbinical Kashrus Association (Metro-K) or to be catered by one of the synagogue's approved caterers. When eating in a kosher establishment or in a facility in which a kosher caterer is catering the meal, it is permissible to eat any food item that is served, whether dairy or meat.
2. If food is to be served at a restaurant or other location (i.e., a member's home, bowling alley, country club, sporting facility, etc.) that has not been certified as kosher per the authorities stated in item 1 above, the hosting committee or auxiliary group of the synagogue shall be required to abide by the following conditions:
a. No meat, chicken or meat/chicken by-products whatsoever shall be served or offered as part of the meal, unless the food has been purchased from an approved kosher caterer or establishment, such as Moti's Market or Shalom and is sealed with the tape and "hechshar" (certification from a recognized mashgiach that the food has been prepared in accordance with the laws of kashrut). The platter should remain sealed until the time that the food is to be served.
b. It is permissible to serve/consume food from the following groups:
i. Dairy (i.e., cheese, butter, milk, etc.)
ii. Vegetarian (i.e., all vegetables, fruits, grains and pastas)
iii. Pareve (i.e., eggs, fish and other food types that contain neither meat nor dairy by-products
iv. Salads (no meat or chicken)
v. Fish products: The only type of fish that may be served and consumed is that which is kosher; i.e., those that have fins and scales. No shellfish of any type is permitted. These include, but are not limited to shrimp, lobster, clams, oysters, scallops, etc. and crustaceans.
c. A copy of the proposed menu must be emailed to the Executive Director at least five days in advance of the event to ensure compliance with all of the guidelines stipulated above.
Please contact Rabbi Weinblatt (301.299.0225 ext. 309 or by email at potomacrebbe@bnaitzedek.org) prior to scheduling your event should you have any questions with respect to this policy.
*Please note: under no circumstances may items be purchased for meals outside the synagogue on Shabbat or Jewish holidays, as business transactions may not be conducted at this time.
Sat, May 15 2021
4 Sivan 5781
What's Happening at CBT
All Events
Sunday

,

May

May

16

,

2021

Last Day of Sunday Religious School (Gr. K-6)


Sunday, May 16th

9:00a

to

12:00p




Sunday

,

May

May

16

,

2021

Shavuot Under the Stars "Sources of Healing and Hope" with Congregation Har Shalom


Sunday, May 16th

7:00p

to

10:00p




Wednesday

,

May

May

19

,

2021

Wise Aging JSSA Support Group


Wednesday, May 19th

1:00p

to

2:00p




An opportunity to share and discuss challenges and opportunities presented by new phases in our lives.

Wednesday

,

May

May

19

,

2021

Upper School End of Year Celebration!


Wednesday, May 19th

7:00p

to

8:15p




Thursday

,

May

May

20

,

2021

Torah Study with Rabbi Weinblatt


Thursday, May 20th

9:30a

to

10:30a




We will pick up the story of King David with II Samuel Chapter 13 and conclude the Second Book of Samuel.

Thursday

,

May

May

20

,

2021

Bedtime stories, songs and Shema with Rabbi Tow


Thursday, May 20th

7:00p

to

7:15p




Say Laila Tov with songs, stories and the Shema.

Friday

,

May

May

21

,

2021

Shabbat Sing with Cantor Kapell


Friday, May 21st

10:00a

to

10:15a




Join the fun and get ready for Shabbat with singing and dancing!

Friday

,

May

May

21

,

2021

RS: Chagigat HaSiddur 4th Grade Consecration- Group Alef


Friday, May 21st

6:30p

to

7:30p




Saturday

,

May

May

22

,

2021

Brent Langer Bar Mitzvah
Shabbat, May 22nd (All day)


Sunday

,

May

May

23

,

2021

Abraham Accords with Mark Vandroff


Sunday, May 23rd

7:30p

to

8:30p




We welcome Mark Vandroff, a senior director for defense policy at the National Security Council and a retired Navy captain. He was involved in negotiating the Abraham Accords, the normalization agreement between Israel and the United Arab Emirates which has since come to include Bahrain, Sudan, and Morocco as well.
COVID-19 FORMS
WAIVER: Each adult needs to complete a waiver before entering the synagogue grounds and building. One parent should include the children on their form. Print this form and send to the synagogue or bring it with you.
HEALTH QUESTIONNAIRE: Everyone should bring the following Covid Health Questionnaire with them each time they come to the synagogue. Print this form and bring it with you.
COVID RESTRICTED TRAVEL: Which states has Maryland place on the travel restriction list. Click for more information.
Mazel Tov Us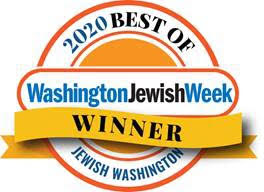 Best Of...
Preschool
Hebrew School
Family-Friendly Shabbat
Special Needs Shabbat
Kiddush
Sat, May 15 2021 4 Sivan 5781