Judaica Shop
Judaica Shop
B'nai Tzedek Judaica Shop - We carry unique Judaica and art from local, Israeli and national artisans.
Shabbat: candles and candlesticks, Kiddush cups, candles, challah boards and knives and challah covers
All holidays: menorahs, seder plates, charoset bowls, matzah covers, Hagaddahs, shofars, apple and honey servers, etc.
Weddings: wedding glass, picture frames, mezzuzot
Bar/Bat Mitzvahs: beautiful tallitot from Israel, large selection of yads, men's jewelry, girl's jewelry and embellished kippot, etc.
We also carry baby gifts, hostess gifts and a large selection of jewelry including Ayala Bar. If you don't see what you want, we can special order.
All merchandise is priced 20% below retail. In addition, Sisterhood members receive a 10% discount off all purchases (another good reason to join Sisterhood). The gift shop is open every Sunday, 9:00 am – 11:45 am, whenever religious school is in session or by appointment.
For more information contact Joanne Leibowitz at 301/340-6991 or Barbara Sandler at 301/986-1257 for more information.
Wed, January 26 2022
24 Shevat 5782
New Yahrzeit Policy
Effective July 2022, we will only be sending Yahrzeit notifications for those individuals for whom one is required to say kaddish: parents, siblings, spouses and children and those who have been memorialized with a plaque on the Burtoff Memorial Wall. If you would like to continue to receive notification of other Yahrzeits, you can let us know by clicking here.
JOIN OUR SERVICE
Service Schedule
Monday - Thursday night 7:00 pm
Wednesday mornings at 8:00 am
Friday night at 6:30 pm
Saturday mornings at 9:30 am.
Mazel Tov Us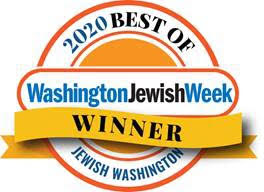 Best Of...
Preschool
Hebrew School
Family-Friendly Shabbat
Special Needs Shabbat
Kiddush
Wed, January 26 2022 24 Shevat 5782