Adult Ed Virtual Offerings
Virtual Offerings
BEIT MIDRASH: A HOUSE OF STUDY FOR ADULTS
One of the hallmarks of B'nai Tzedek is the wide array of outstanding and stimulating adult education and Israel affairs programs that we offer.
As committedly Jewish people and as members of this Congregation, our ties to the land and people of Israel are strong and abiding. Among the many tangible displays of this commitment is our promotion of and participation in synagogue programming devoted to learning about and experiencing the many facets of Israel, including its culture, history, food, wine, technology and might.
ONGOING VIRTUAL CLASSES - Drop in Anytime
Wednesday Morning Minyan: Is held every Wednesday at 8:00 am.
Thursday Morning Torah Study with Rabbi Weinblatt: Is held every Thursday from 9:30-10:30 am. Whether you have studied previously or not, join Rabbi Weinblatt and other congregants for a lively and stimulating study session.
From the Exodus to the Talmud with congregant Stan Beder is held every Tuesday from 10:00 - 11:00. This program will cover various aspects of ancient Israel and ancient Judaism and will include: The Exodus, The Books of Joshua and Judges, The Dead Sea Scrolls, The Origins and Early History of the Midrash, and The Emergence of Rabbinic Judaism. Classes are interconnected but each class stands alone and does not require attendance at any previous classes.
Wed, June 23 2021
13 Tammuz 5781
COVID-19 FORMS
WAIVER: Each adult needs to complete a waiver before entering the synagogue grounds and building. One parent should include the children on their form. Print this form and send to the synagogue or bring it with you.
HEALTH QUESTIONNAIRE: Everyone should bring the following Covid Health Questionnaire with them each time they come to the synagogue. Print this form and bring it with you.
COVID RESTRICTED TRAVEL: Which states has Maryland place on the travel restriction list. Click for more information.
Mazel Tov Us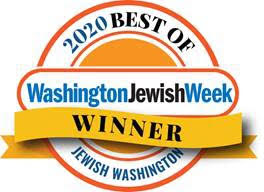 Best Of...
Preschool
Hebrew School
Family-Friendly Shabbat
Special Needs Shabbat
Kiddush
Wed, June 23 2021 13 Tammuz 5781