Helping Others
Helping Others
Helping others in our community is a hallmark of our congregation. We look for opportunities for meaningful engagement with members of our community in need. Please let us know if you have a passion for an organization or project that we can support!
Caring Community
Compassionate Volunteers from the B'nai Tzedek Family. We are a network of volunteers who come together to support our members in times of need, whether it be an acute crisis, joyous occasion, or a need for ongoing support. It is our goal for the Caring Community to become a place congregants feel comfortable turning to when a helping hand is needed. Please consider joining our network of caring by:
• Providing transportation to services or other synagogue activities,
• Paying a visit to a homebound congregant,
• Making a phone call to someone who needs to hear a supportive voice,
• Dropping off a meal.
All of these opportunities are on an "as needed basis." No prior experience is necessary, just an open heart and a willingness to lend a hand! To get involved, please contact Caring Community Chair Fabiana Offit.
Inclusion Committee
The mission of the Inclusion Committee is to ensure that ALL congregants have the fullest opportunity to participate in the educational, social, spiritual and recreational activities of the synagogue, to encourage an environment accepting of individual differences, and to provide support to families with special needs and other challenges. The committee works closely with the clergy, religious school, ECC and b'nai mitzvah program to promote inclusion, coordinate awareness activities and engage resources to continue to provide accomodations for students and training for staff. Please contact Ruth Hoffman , Inclusion Committee Chair, to discuss ways you can help the committee or how the committee can assist you and your family.
Social Action Committee
The mission of our Social Action Committee is to give back to our local Montgomery County community through fun and social volunteer activities. We are putting into action the Jewish concepts of tzedakah, tikkum olam and mitzvot. For example, we will take up collections of a variety of items and gifts for donation, work to reduce the environmental impact of our synagogue, and prepare and serve meals to individuals and families in need. Some of the organizations we work with include the Children's Inn at NIH, Hearts and Homes, Rebuilding Together Montgomery County and the Jewish Federation of Greater Washington. We seek input from all members of our congregation to
accomplish these goals. We encourage participation from members of all ages. Please contact Danielle Roffman, Social Action Chair, to volunteer and join the fun.
Special in Uniform
Special in Uniform is an innovative program through the Jewish National Fund that aims to integrate youth with disabilities into the Israel Defense Forces (IDF) and assist in preparing them for careers following army service. The program was founded to give everyone a right to fulfill their potential and be accepted into society, regardless of any disability. The Inclusion and Israel Affairs Committees are seeking to raise a minimum of $30,000 for this important project. Please contact the synagogue office (301-299-0225) to make a donation in support of this wonderful Project.
Wed, June 7 2023
18 Sivan 5783
Senior Rabbi Search
The Senior Rabbi Search process is underway. Focus Group results are being compiled and updates will be shared soon.
Join Our Services
Service Schedule
Minyanim:
Monday - Thursday night 7:00 pm & Wednesday mornings at 8:00 am
via Zoom -
Click Here
(contact the front office for password).
Wednesday morning in-person at 8:00 am.
Shabbat Services
Friday night at 6:30 pm
Saturday mornings at 9:30 am.
Mazel Tov Us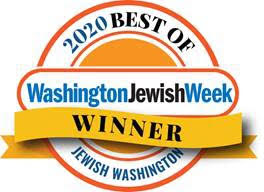 Best Of...
Preschool
Hebrew School
Family-Friendly Shabbat
Special Needs Shabbat
Kiddush
Wed, June 7 2023 18 Sivan 5783