Building a Youth Community
Building a Youth Community
Engaging our Kids from Tots to Teens
Students in Kindergarten through Grade 5 are invited to join us for some purely fun, purely social afternoons following Religious School on Sundays! Stay tuned for details on upcoming events.
JDS Families & CBT: CBT strives to make sure our families whose children attend Charles E. Smith Jewish Day School, feel connected to both their school and their synagogue. We encourage JDS students to get involved with our youth group events and family learning opportunities. If you are interested in learning more about the Jewish Day School, or how we help families enjoy both JDS and CBT, please contact Jessica Eyal (jmeyal@gmail.com) or Laura Gordon (laura_s_gordon@comcast.net), our CBT/JDS liaisons.
9th – 12th Grade: CBT's high school youth group inspires lasting friendships, leadership development, and thoughtful exploration of Jewish identity that will hopefully carry over past high school. We also encourage our teens to participate in regional USY (United Synagogue Youth) and BBYO (B'nai B'rith Youth Organization) activities.
"College Prep Boot Camp" for Juniors and Seniors: As important as your meeting with your child's college guidance counselor! Children often go off to college unprepared for what they will encounter. Some campuses are hotbeds of anti-Zionism and anti-Israeli propaganda and activity. Be sure your children are prepared. Rabbi Weinblatt, Rabbi Tow and Nadav will meet with our 11th and 12th Graders in the upcoming year on Sunday evenings to help them learn how to deal with the challenges that await them on campus.
College Connection: We stay connected with our college students by sending holiday and study packages as well as communications from Rabbi Weinblatt to keep them in touch with our community throughout the year. Please send an updated address for your college student to the main office so we can send them a special gift from all of us at CBT!
Israel Quest (IQ): Israel Quest is a grant program for teens that aims to promote Jewish identity through peer-based Israel experiences. Click here for more information on the Israel Quest program.
Sat, May 15 2021
4 Sivan 5781
What's Happening at CBT
All Events
Sunday

,

May

May

16

,

2021

Last Day of Sunday Religious School (Gr. K-6)


Sunday, May 16th

9:00a

to

12:00p




Sunday

,

May

May

16

,

2021

Shavuot Under the Stars "Sources of Healing and Hope" with Congregation Har Shalom


Sunday, May 16th

7:00p

to

10:00p




Wednesday

,

May

May

19

,

2021

Wise Aging JSSA Support Group


Wednesday, May 19th

1:00p

to

2:00p




An opportunity to share and discuss challenges and opportunities presented by new phases in our lives.

Wednesday

,

May

May

19

,

2021

Upper School End of Year Celebration!


Wednesday, May 19th

7:00p

to

8:15p




Thursday

,

May

May

20

,

2021

Torah Study with Rabbi Weinblatt


Thursday, May 20th

9:30a

to

10:30a




We will pick up the story of King David with II Samuel Chapter 13 and conclude the Second Book of Samuel.

Thursday

,

May

May

20

,

2021

Bedtime stories, songs and Shema with Rabbi Tow


Thursday, May 20th

7:00p

to

7:15p




Say Laila Tov with songs, stories and the Shema.

Friday

,

May

May

21

,

2021

Shabbat Sing with Cantor Kapell


Friday, May 21st

10:00a

to

10:15a




Join the fun and get ready for Shabbat with singing and dancing!

Friday

,

May

May

21

,

2021

RS: Chagigat HaSiddur 4th Grade Consecration- Group Alef


Friday, May 21st

6:30p

to

7:30p




Saturday

,

May

May

22

,

2021

Brent Langer Bar Mitzvah
Shabbat, May 22nd (All day)


Sunday

,

May

May

23

,

2021

Abraham Accords with Mark Vandroff


Sunday, May 23rd

7:30p

to

8:30p




We welcome Mark Vandroff, a senior director for defense policy at the National Security Council and a retired Navy captain. He was involved in negotiating the Abraham Accords, the normalization agreement between Israel and the United Arab Emirates which has since come to include Bahrain, Sudan, and Morocco as well.
COVID-19 FORMS
WAIVER: Each adult needs to complete a waiver before entering the synagogue grounds and building. One parent should include the children on their form. Print this form and send to the synagogue or bring it with you.
HEALTH QUESTIONNAIRE: Everyone should bring the following Covid Health Questionnaire with them each time they come to the synagogue. Print this form and bring it with you.
COVID RESTRICTED TRAVEL: Which states has Maryland place on the travel restriction list. Click for more information.
Mazel Tov Us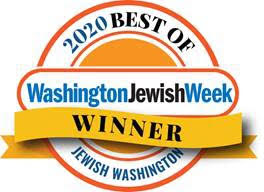 Best Of...
Preschool
Hebrew School
Family-Friendly Shabbat
Special Needs Shabbat
Kiddush
Sat, May 15 2021 4 Sivan 5781