Strategic Plan
In early 2014, the leadership of B'nai Tzedek began a strategic planning journey to better understand where the congregation is, where it wants to be, and where it should be. Our strategic planning process was conducted with the help of the United Synagogue of Conservative Judaism (USCJ) which accepted B'nai Tzedek in to its second Sulam for Strategic Planning cohort. Key people at the initial stages of the planning process where outgoing president, Harvey Rumeld; incoming president, Burt Amernick; Diane Steren, who is a member of the board and took on the difficult and important work of chairing the strategic planning committee; Rabbi Stuart Weinblatt; Cantor Marshall Kapell and several congregants, some of whom are on the board of directors or board of trustees: Jennifer Fisher; Micah Green; Eric J. Ellman; David Lowe; Deborah Fox, Michael Lustbader; Susan Miller; Meredith Jacobs; Gail Ifshin; and Allison Perlis. We are grateful for the help along the way from congregant Arlene Karpas, who is a professional strategic planner, Nadine Kochavi, our USCJ Transformation Specialist, and Bob Leventhal, our USCJ Sulam leader.
Click here to read the full Strategic Plan.
Wed, June 7 2023
18 Sivan 5783
Senior Rabbi Search
The Senior Rabbi Search process is underway. Focus Group results are being compiled and updates will be shared soon.
Join Our Services
Service Schedule
Minyanim:
Monday - Thursday night 7:00 pm & Wednesday mornings at 8:00 am
via Zoom -
Click Here
(contact the front office for password).
Wednesday morning in-person at 8:00 am.
Shabbat Services
Friday night at 6:30 pm
Saturday mornings at 9:30 am.
Mazel Tov Us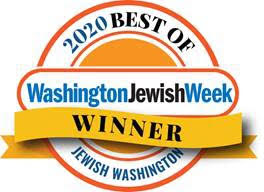 Best Of...
Preschool
Hebrew School
Family-Friendly Shabbat
Special Needs Shabbat
Kiddush
Wed, June 7 2023 18 Sivan 5783