Theatre@CBT
Audition for the Fall 2020 Theatre@CBT Cabaret!
We are so excited to produce another virtual production!
Audition to join in the fun

We are looking for anyone who is interested in singing, performing a monologue, spoken word, or emceeing. You must either be a CBT member OR have participated in a previous Theatre@CBT production to audition. Please note that you will need a Gmail email address to complete the form. All forms must be submitted by 8pm on Monday, August 31, 2020. If you run into any issues or have any questions, please email us at CBTTheatre@gmail.com.
To audition, fill out our Google Form (https://docs.google.com/forms/d/e/1FAIpQLSeaC3PyAKW4UEql-4zHSp9CqN21y-ytiBlVhN-n3NIfAXMIPA/viewform) with your information and then upload a recorded video audition of either you singing a song OR performing a monologue/spoken word poem. Please make sure the video is at least 1 minute long but no longer than 3 minutes long. Your face should be clearly visible in the recording. Anyone singing should have backing music (no a capella submissions please). We also ask that you upload your resume AND your headshot (or any recent picture).
About Theatre @CBT
Founded in September of 2014, Theatre@CBT is a local non-profit community theatre group that focuses on providing accessible theatre opportunities for kids, families and adults in the Potomac, MD area. We produce high-quality shows that bring together people from our diverse local community, including those who aren't members of our synagogue. Our volunteers range in skill level, from professional actors to those that are brand new to the stage. We often have 60+ volunteers working on our season of shows each year, which are then seen by over 1,000 audience members. According to DCMetroTheatreArts, our production of The Wizard of Oz was "thoroughly entertaining....the audience was thrilled with the imaginative stage direction and stellar performances" while our production of Peter Pan was "Something to crow about".
For more information, please email us at cbttheatre@gmail.com
Sat, May 15 2021
4 Sivan 5781
What's Happening at CBT
All Events
Sunday

,

May

May

16

,

2021

Last Day of Sunday Religious School (Gr. K-6)


Sunday, May 16th

9:00a

to

12:00p




Sunday

,

May

May

16

,

2021

Shavuot Under the Stars "Sources of Healing and Hope" with Congregation Har Shalom


Sunday, May 16th

7:00p

to

10:00p




Wednesday

,

May

May

19

,

2021

Wise Aging JSSA Support Group


Wednesday, May 19th

1:00p

to

2:00p




An opportunity to share and discuss challenges and opportunities presented by new phases in our lives.

Wednesday

,

May

May

19

,

2021

Upper School End of Year Celebration!


Wednesday, May 19th

7:00p

to

8:15p




Thursday

,

May

May

20

,

2021

Torah Study with Rabbi Weinblatt


Thursday, May 20th

9:30a

to

10:30a




We will pick up the story of King David with II Samuel Chapter 13 and conclude the Second Book of Samuel.

Thursday

,

May

May

20

,

2021

Bedtime stories, songs and Shema with Rabbi Tow


Thursday, May 20th

7:00p

to

7:15p




Say Laila Tov with songs, stories and the Shema.

Friday

,

May

May

21

,

2021

Shabbat Sing with Cantor Kapell


Friday, May 21st

10:00a

to

10:15a




Join the fun and get ready for Shabbat with singing and dancing!

Friday

,

May

May

21

,

2021

RS: Chagigat HaSiddur 4th Grade Consecration- Group Alef


Friday, May 21st

6:30p

to

7:30p




Saturday

,

May

May

22

,

2021

Brent Langer Bar Mitzvah
Shabbat, May 22nd (All day)


Sunday

,

May

May

23

,

2021

Abraham Accords with Mark Vandroff


Sunday, May 23rd

7:30p

to

8:30p




We welcome Mark Vandroff, a senior director for defense policy at the National Security Council and a retired Navy captain. He was involved in negotiating the Abraham Accords, the normalization agreement between Israel and the United Arab Emirates which has since come to include Bahrain, Sudan, and Morocco as well.
COVID-19 FORMS
WAIVER: Each adult needs to complete a waiver before entering the synagogue grounds and building. One parent should include the children on their form. Print this form and send to the synagogue or bring it with you.
HEALTH QUESTIONNAIRE: Everyone should bring the following Covid Health Questionnaire with them each time they come to the synagogue. Print this form and bring it with you.
COVID RESTRICTED TRAVEL: Which states has Maryland place on the travel restriction list. Click for more information.
Mazel Tov Us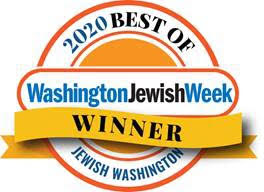 Best Of...
Preschool
Hebrew School
Family-Friendly Shabbat
Special Needs Shabbat
Kiddush
Sat, May 15 2021 4 Sivan 5781