Theatre@CBT
Audition for the Fall 2020 Theatre@CBT Cabaret!
We are so excited to produce another virtual production!
Audition to join in the fun

We are looking for anyone who is interested in singing, performing a monologue, spoken word, or emceeing. You must either be a CBT member OR have participated in a previous Theatre@CBT production to audition. Please note that you will need a Gmail email address to complete the form. All forms must be submitted by 8pm on Monday, August 31, 2020. If you run into any issues or have any questions, please email us at CBTTheatre@gmail.com.
To audition, fill out our Google Form (https://docs.google.com/forms/d/e/1FAIpQLSeaC3PyAKW4UEql-4zHSp9CqN21y-ytiBlVhN-n3NIfAXMIPA/viewform) with your information and then upload a recorded video audition of either you singing a song OR performing a monologue/spoken word poem. Please make sure the video is at least 1 minute long but no longer than 3 minutes long. Your face should be clearly visible in the recording. Anyone singing should have backing music (no a capella submissions please). We also ask that you upload your resume AND your headshot (or any recent picture).
About Theatre @CBT
Founded in September of 2014, Theatre@CBT is a local non-profit community theatre group that focuses on providing accessible theatre opportunities for kids, families and adults in the Potomac, MD area. We produce high-quality shows that bring together people from our diverse local community, including those who aren't members of our synagogue. Our volunteers range in skill level, from professional actors to those that are brand new to the stage. We often have 60+ volunteers working on our season of shows each year, which are then seen by over 1,000 audience members. According to DCMetroTheatreArts, our production of The Wizard of Oz was "thoroughly entertaining....the audience was thrilled with the imaginative stage direction and stellar performances" while our production of Peter Pan was "Something to crow about".
For more information, please email us at cbttheatre@gmail.com
Thu, September 16 2021
10 Tishrei 5782
JOIN OUR SERVICE
Service Schedule
Monday - Thursday night 7:00 pm
Wednesday mornings at 8:00 am
Friday night at 6:30 pm
Saturday mornings at 9:30 am.
A digital copy of Siddur Sim Shalom is available
HERE
.
Mazel Tov Us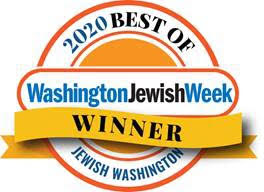 Best Of...
Preschool
Hebrew School
Family-Friendly Shabbat
Special Needs Shabbat
Kiddush
Thu, September 16 2021 10 Tishrei 5782