Membership
Our vibrant congregation serves the communities of Potomac, Bethesda, Gaithersburg, and Rockville, MD. We provide Jewish education that includes preschool for children from birth through age five and religious education for students in Kindergarten through 10th grade. We invite you to visit us for services, Kiddush lunches, social action, and social programming.
B'nai Tzedek is a welcoming Conservative Jewish synagogue with a passionate and enthusiastic congregation. We encourage active participation, which enables our members to connect with each other and our shared Jewish heritage. Our mission to strengthen the Jewish family, and our community begins with Jewish education preschool to teach our history, traditions, and values to our children. This mission extends to the synagogue's many groups, committees, and social activities.
Contact Heather Glick with questions about joining our congregational family.
Would you like more information about our congregation and community?, Please fill out the form below and we will be in touch!
Sat, April 17 2021
5 Iyyar 5781
COVID-19 FORMS
WAIVER: Each adult needs to complete a waiver before entering the synagogue grounds and building. One parent should include the children on their form. Print this form and send to the synagogue or bring it with you.
HEALTH QUESTIONNAIRE: Everyone should bring the following Covid Health Questionnaire with them each time they come to the synagogue. Print this form and bring it with you.
COVID RESTRICTED TRAVEL: Which states has Maryland place on the travel restriction list. Click for more information.
Mazel Tov Us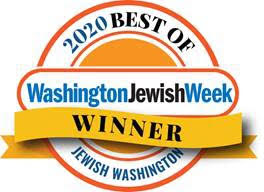 Best Of...
Preschool
Hebrew School
Family-Friendly Shabbat
Special Needs Shabbat
Kiddush
Sat, April 17 2021 5 Iyyar 5781