Clergy
Our Clergy
Rabbi Stuart Weinblatt, Senior Rabbi
Rabbi Stuart Weinblatt founded Congregation B'nai Tzedek in 1988. He's our spiritual leader, an educator, an outspoken supporter of Israel, a respected voice in our region on issues important to the Jewish community here and abroad, and a compassionate confidant in times of need. His open discussions during Shabbat services, annual Yom Kippur afternoon discussion, DC Lunch and Learn and NYC field trip with our confirmation kids are particularly popular. We might also mention he's a comedian. Life doesn't always have to be so serious.
He is the author of, "God, Prayer and Spirituality," a compilation of his sermons, writings and articles, "Living in the Shadow of Death: A Rabbi Copes with Cancer," as well as numerous articles and columns. Rabbi Weinblatt and his wife, Symcha, have four adult children and four grandchildren.
Rabbi Neil Tow, Associate Rabbi
Rabbi Tow is so excited to join the B'nai Tzedek family. Over the years, his passion for engagement is evidenced by a consistent commitment to creating programming to involve people with diverse backgrounds and abilities in synagogue life. He is a dynamic teacher who also has strong pastoral skills and believes in building strong community connections. He previously served as rabbi in Glen Rock NJ, Woodbury, NY, and Cranford, NJ.
Please find Rabbi Tow's thoughts on Torah at www.rabbitowswindow.blogspot.com
Cantor Marshall Kapell
Cantor Marshall Kapell joined Congregation B'nai Tzedek in 2002. We're so glad he settled here. Cantor Kapell enjoys sharing his love and knowledge of Jewish music with members of B'nai Tzedek, of all ages, and to inspiring congregants to discover their own spirituality through song and prayer. The way he injects music into our services is beautiful, whether it's, welcoming Shabbat with his guitar, acting in and directing our Purim Spiel, chanting the solemn and serious Hineni during the high holidays or showcasing amazing young talent within our congregation.
Thu, November 26 2020
10 Kislev 5781
COVID-19 FORMS
WAIVER: Each adult needs to complete a waiver before entering the synagogue grounds and building. One parent should include the children on their form. Print this form and send to the synagogue or bring it with you.
HEALTH QUESTIONNAIRE: Everyone should bring the following Covid Health Questionnaire with them each time they come to the synagogue. Print this form and bring it with you.
COVID RESTRICTED TRAVEL: Which states has Maryland place on the travel restriction list. Click for more information.
HOST OUR SHLICHA TALIA FOR SHABBAT
Get to know our new shlicha Talia Garber in-person or on ZOOM by hosting her for Shabbat. Learn more about Israel, get her opinion on the best whiskey (she's a trained expert!) enjoy the company of this remarkable young woman - Shabbat with Talia is something you won't want to miss. Sign up below for your preferred Friday night.
Mazel Tov Us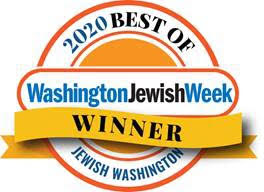 Best Of...
Preschool
Hebrew School
Family-Friendly Shabbat
Special Needs Shabbat
Kiddush
Thu, November 26 2020 10 Kislev 5781