Community
GET INVOLVED!
B'nai Tzedek offers many opportunities for congregants to participate in various social activities and form lasting and meaningful relationships by encouraging members with common bonds to come together.
Click on any of the links on the right to find more information about our many groups and committees such as...
B'nai Boomers, a social group for couples and singles, whose kids have left the nest;
Brotherhood, inviting you to play on one of our softball or basketball teams, assist with a social action projects, join our networking breakfasts, and help with our ritual/educational needs;

Hazak, a social group for the retired members of the congregation with monthly programs;
Our Caring Community, a network of volunteers who come together to support our members in times of need, whether it be an acute crisis, joyous occasion, or a need for ongoing support;
The Inclusion Committee which works to ensure that ALL congregants have the fullest opportunity to participate in the educational, social, spiritual and recreational activities of the synagogue;
The Social Action Committee, giving back to our local Montgomery County community through fun and social volunteer activities;
The Ritual Committee works closely with the Rabbi and Cantor as an advisory group on ritual matters pertaining to Shabbat and holiday prayer and religious and life cycle services;
Our Sisterhood offers many social and educational activities to appeal to our broad membership, as well as social action projects and running our Judaica shop;
Theatre@CBT , a local non-profit community theatre group that focuses on providing accessible theatre opportunities for kids, families and adults in the Potomac, MD area; and
Our schools work together to help our kids develop the skills necessary to build confidence and continue with life-long Jewish involvement. We infuse creativity, activitity and social opportunities into every program.
Fri, September 22 2023
7 Tishrei 5784
Senior Rabbi Search
A big thank you to all of you for participating in the recent focus groups and electronic survey.
Over the summer, the Search Committee will be working on completing our official application, which will be submitted right after the high holy days.
Stay tuned for another update in early fall. Have a great summer!

Rachel Hyman & Michael Chernoff
Committee Co-chairs
Join Our Services
Service Schedule
Minyanim:
Monday - Thursday night 7:00 pm & Wednesday mornings at 8:00 am
via Zoom -
Click Here
(contact the front office for password).
Wednesday morning in-person at 8:00 am.
Shabbat Services
Friday night at 6:30 pm
Saturday mornings at 9:30 am.
Mazel Tov Us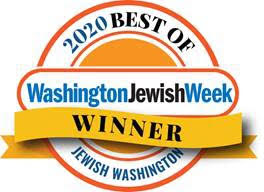 Best Of...
Preschool
Hebrew School
Family-Friendly Shabbat
Special Needs Shabbat
Kiddush
Fri, September 22 2023 7 Tishrei 5784