B'nai Boomers
B'nai Boomers
B'nai Boomers is B'nai Tzedek's social group for couples and singles, whose kids have left the nest or for people whose children have moved back home during COVID-19. We're basically adults who can enjoy an evening out without having to hire a babysitter! We are currently offering events virtually but before the pandemic we enjoyed activities like a walking tour of DC, bowling night, our annual Chanukah celebration, "Latkes, Libations & Laughter," a paint and sip night, cooking classes and a scavenger hunt. Please email Fran Goldstein or Geri Shapiro to get on our email list or join the committee.
Wed, January 26 2022
24 Shevat 5782
New Yahrzeit Policy
Effective July 2022, we will only be sending Yahrzeit notifications for those individuals for whom one is required to say kaddish: parents, siblings, spouses and children and those who have been memorialized with a plaque on the Burtoff Memorial Wall. If you would like to continue to receive notification of other Yahrzeits, you can let us know by clicking here.
JOIN OUR SERVICE
Service Schedule
Monday - Thursday night 7:00 pm
Wednesday mornings at 8:00 am
Friday night at 6:30 pm
Saturday mornings at 9:30 am.
Mazel Tov Us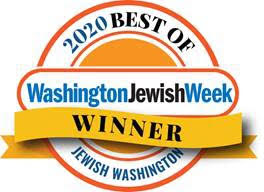 Best Of...
Preschool
Hebrew School
Family-Friendly Shabbat
Special Needs Shabbat
Kiddush
Wed, January 26 2022 24 Shevat 5782