Staff
B'nai Tzedek's talented professional staff bring warmth to our congregational family. We look forward to getting to know you, please feel free to contact us.
Scott Katz, Executive Director
skatz@bnaitzedek.org Ext. 313
Scott has over thirty years of experience in the Jewish Non-Profit world spending over 25 years at JCCs serving in a multitude of positions including COO and Executive Director. Scott most recently worked at Pearlstone Center just outside of Baltimore where he served as COO. Scott brings a wealth of experience in management, finance, HR, operations and programming.
Carrie Hirshfield, Controller
chirshfield@bnaitzedek.org Ext. 308
Carrie Hirshfield has been with B'nai Tzedek since June 2011 as the Controller/Business Manager. She has almost 25 years of experience in the accounting field since graduating from the University of Rhode Island. Previously she was the Director of Financial Reporting at the Public Broadcasting Service from 1999-2011. Carrie currently resides in Rockville with her two boys, Mason and Kaden.
Jane Greenblatt, Director, Greenzaid ECC
GECCDirector@bnaitzedek.org Ext. 329
We are delighted to announce that Jane Greenblatt has accepted the position of Director of the B'nai Tzedek Greenzaid Early Childhood Center for the 2019-2020 school year. Many of you know Jane as the lead teacher for the Two's Classroom at the GECC for 10 years, working closely with students, families and staff. She has also served as a new teacher mentor and has led parent workshops for behavioral and developmental issues. She was instrumental in creating the GECC Toddlers' Program, and has taught art enrichment. Jane holds an undergraduate degree in Art History and Studio Art and a Master's Degree in Early Childhood Education with a focus on Special Education. Jane was a Special Educator with Montgomery County Infants and Toddlers Program. Additionally, she served as president of The Service Guild of Washington, a charitable organization, raising funds and awareness for several local children's and Jewish organizations. Jane lives in Potomac with her husband, and has three sons, all of whom are GECC graduates.
Jane asked us to share: I'm very excited and honored to be serving in this new role at the GECC. I know first-hand, as both a teacher and former GECC parent, what an extremely special place the GECC is. From our intimate classes and caring teachers to the beautiful natural surroundings, our school is an ideal setting in which we can help young children to thrive. My hope is to continue the wonderful work Liran and the staff have accomplished, highlighting our attributes and supporting children, families and teachers. I am grateful to collaborate with the GECC community in this special opportunity."
Marisa Marcus, Greenzaid ECC Office Manager
GECCOffice@bnaitzedek.org Ext. 325
Marisa Marcus joined B'nai Tzedek in July 2015. She grew up in Maryland, graduating from Churchill High School. After graduating from Washington University in St. Louis, she returned to the area. She currently lives in Rockville with her husband and two children.
Ronni Ticker, Director of Family & Youth Learning
rticker@bnaitzedek.org Ext. 321
Ronni Ticker is a creative strategic thinker who is reimagining Jewish learning for the 21st century that is highly engaging for learners, forges connections with role models and peers, cultivates curiosity, and fosters sacred community. She has engaged tots, youth and adults in Jewish learning and spirituality for more than 25 years. Ronni teaches nationally on a variety of topics including Strategic Planning for Jewish Schools, Teaching Torah to Middle Schoolers Hevruta Style, Project Based Jewish Learning and Family Engagement. She is a Certified Life Coach and holds a MAJS with Certificates in Jewish Education and Jewish Communal Service from Gratz College, MBA in strategic planning and finance from the Fuqua School of Business at Duke University, and a BS in accounting from Lehigh. Ronni lives in Friendship Heights, MD and has three grown children, Alexandra, Marielle and Jordan. Stop by, call or send an email to Ronni. She would love to meet you and learn more about your hopes & dreams for your family's Jewish life and learning!
Beth Knobler, Religious School Administrative Coordinator
bknobler@bnaitzedek.org Ext. 328
Beth Knobler, has worked at B'nai Tzedek since 2007, is a native Marylander, a graduate of Rochester Institute of Technology, and was a Steinhardt's Jewish Campus Service Corp Fellow with Hillel at Virginia Tech in the 2005-2006 year. She currently lives in Arlington, VA with her husband, Garry.
Liane Aaron, Bar/Bat Mitzvah Academic Coordinator
laaron@bnaitzedek.org Ext. 324
As B'nai Mitzvah Coordinator since 1999, Liane sees to it that each and every child in the B'nai Mitzvah program works to their full potential to prepare and participate in our services on the day they become a Bar or Bat Mitzvah hopefully instilling a sense of community and belonging. Liane grew up locally in Potomac, and attended Churchill High School and the University of Maryland where she graduated with a degree in Journalism and Public Relations. She has been a B'nai Mitzvah Educator for more than 30 years.
Amy Steinborn, Office Manager, and Communications Associate
asteinborn@bnaitzedek.org
Ext. 304
Amy is a Pennsylvania State University graduate and has spent the past six years working in the Jewish and pro-Israel community. She joins B'nai Tzedek from the American Israel Public Affairs Committee (AIPAC) and before that Israel Outdoors, one of Birthright's largest trip organizers. She was born and raised in Chevy Chase, MD as a synagogue Executive Directors' daughter, and she now lives with her husband Zachary and their dog Loki in Silver Spring. She is excited to join the CBT family!
Sat, May 15 2021
4 Sivan 5781
What's Happening at CBT
All Events
Sunday

,

May

May

16

,

2021

Last Day of Sunday Religious School (Gr. K-6)


Sunday, May 16th

9:00a

to

12:00p




Sunday

,

May

May

16

,

2021

Shavuot Under the Stars "Sources of Healing and Hope" with Congregation Har Shalom


Sunday, May 16th

7:00p

to

10:00p




Wednesday

,

May

May

19

,

2021

Wise Aging JSSA Support Group


Wednesday, May 19th

1:00p

to

2:00p




An opportunity to share and discuss challenges and opportunities presented by new phases in our lives.

Wednesday

,

May

May

19

,

2021

Upper School End of Year Celebration!


Wednesday, May 19th

7:00p

to

8:15p




Thursday

,

May

May

20

,

2021

Torah Study with Rabbi Weinblatt


Thursday, May 20th

9:30a

to

10:30a




We will pick up the story of King David with II Samuel Chapter 13 and conclude the Second Book of Samuel.

Thursday

,

May

May

20

,

2021

Bedtime stories, songs and Shema with Rabbi Tow


Thursday, May 20th

7:00p

to

7:15p




Say Laila Tov with songs, stories and the Shema.

Friday

,

May

May

21

,

2021

Shabbat Sing with Cantor Kapell


Friday, May 21st

10:00a

to

10:15a




Join the fun and get ready for Shabbat with singing and dancing!

Friday

,

May

May

21

,

2021

RS: Chagigat HaSiddur 4th Grade Consecration- Group Alef


Friday, May 21st

6:30p

to

7:30p




Saturday

,

May

May

22

,

2021

Brent Langer Bar Mitzvah
Shabbat, May 22nd (All day)


Sunday

,

May

May

23

,

2021

Abraham Accords with Mark Vandroff


Sunday, May 23rd

7:30p

to

8:30p




We welcome Mark Vandroff, a senior director for defense policy at the National Security Council and a retired Navy captain. He was involved in negotiating the Abraham Accords, the normalization agreement between Israel and the United Arab Emirates which has since come to include Bahrain, Sudan, and Morocco as well.
COVID-19 FORMS
WAIVER: Each adult needs to complete a waiver before entering the synagogue grounds and building. One parent should include the children on their form. Print this form and send to the synagogue or bring it with you.
HEALTH QUESTIONNAIRE: Everyone should bring the following Covid Health Questionnaire with them each time they come to the synagogue. Print this form and bring it with you.
COVID RESTRICTED TRAVEL: Which states has Maryland place on the travel restriction list. Click for more information.
Mazel Tov Us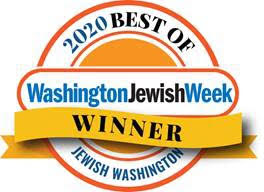 Best Of...
Preschool
Hebrew School
Family-Friendly Shabbat
Special Needs Shabbat
Kiddush
Sat, May 15 2021 4 Sivan 5781