Staff
B'nai Tzedek's talented professional staff bring warmth to our congregational family. We look forward to getting to know you, please feel free to contact us.
Scott Katz, Executive Director
skatz@bnaitzedek.org Ext. 313
Scott has over thirty years of experience in the Jewish Non-Profit world spending over 25 years at JCCs serving in a multitude of positions including COO and Executive Director. Scott most recently worked at Pearlstone Center just outside of Baltimore where he served as COO. Scott brings a wealth of experience in management, finance, HR, operations and programming.
Heather Glick, Director of Programming and Engagement,
hglick@bnaitzedek.org Ext. 302
Contact Heather to share your own ideas about programs and events you'd like to see CBT offer. Or ask her about Iceland (a country she says she is obsessed with), why she encourages every person to adopt the Swedish custom of afternoon fika or what it's like to be the mother of the 2016 Pokemon World Champion.
Carrie Hirshfield, Controller
chirshfield@bnaitzedek.org Ext. 308
Carrie Hirshfield has been with B'nai Tzedek since June 2011 as the Controller/Business Manager. She has almost 25 years of experience in the accounting field since graduating from the University of Rhode Island. Previously she was the Director of Financial Reporting at the Public Broadcasting Service from 1999-2011. Carrie currently resides in Rockville with her two boys, Mason and Kaden.
Jane Greenblatt, Director, Greenzaid ECC
GECCDirector@bnaitzedek.org Ext. 329
We are delighted to announce that Jane Greenblatt has accepted the position of Director of the B'nai Tzedek Greenzaid Early Childhood Center for the 2019-2020 school year. Many of you know Jane as the lead teacher for the Two's Classroom at the GECC for 10 years, working closely with students, families and staff. She has also served as a new teacher mentor and has led parent workshops for behavioral and developmental issues. She was instrumental in creating the GECC Toddlers' Program, and has taught art enrichment. Jane holds an undergraduate degree in Art History and Studio Art and a Master's Degree in Early Childhood Education with a focus on Special Education. Jane was a Special Educator with Montgomery County Infants and Toddlers Program. Additionally, she served as president of The Service Guild of Washington, a charitable organization, raising funds and awareness for several local children's and Jewish organizations. Jane lives in Potomac with her husband, and has three sons, all of whom are GECC graduates.
Jane asked us to share: I'm very excited and honored to be serving in this new role at the GECC. I know first-hand, as both a teacher and former GECC parent, what an extremely special place the GECC is. From our intimate classes and caring teachers to the beautiful natural surroundings, our school is an ideal setting in which we can help young children to thrive. My hope is to continue the wonderful work Liran and the staff have accomplished, highlighting our attributes and supporting children, families and teachers. I am grateful to collaborate with the GECC community in this special opportunity."
Marisa Marcus, Greenzaid ECC Office Manager
GECCOffice@bnaitzedek.org Ext. 325
Marisa Marcus joined B'nai Tzedek in July 2015. She grew up in Maryland, graduating from Churchill High School. After graduating from Washington University in St. Louis, she returned to the area. She currently lives in Rockville with her husband and two children.
Ronni Ticker, Director of Family & Youth Learning
rticker@bnaitzedek.org Ext. 321
Ronni Ticker is a creative strategic thinker who is reimagining Jewish learning for the 21st century that is highly engaging for learners, forges connections with role models and peers, cultivates curiosity, and fosters sacred community. She has engaged tots, youth and adults in Jewish learning and spirituality for more than 25 years. Ronni teaches nationally on a variety of topics including Strategic Planning for Jewish Schools, Teaching Torah to Middle Schoolers Hevruta Style, Project Based Jewish Learning and Family Engagement. She is a Certified Life Coach and holds a MAJS with Certificates in Jewish Education and Jewish Communal Service from Gratz College, MBA in strategic planning and finance from the Fuqua School of Business at Duke University, and a BS in accounting from Lehigh. Ronni lives in Friendship Heights, MD and has three grown children, Alexandra, Marielle and Jordan. Stop by, call or send an email to Ronni. She would love to meet you and learn more about your hopes & dreams for your family's Jewish life and learning!
Beth Knobler, Religious School Administrative Coordinator
bknobler@bnaitzedek.org Ext. 328
Beth Knobler, has worked at B'nai Tzedek since 2007, is a native Marylander, a graduate of Rochester Institute of Technology, and was a Steinhardt's Jewish Campus Service Corp Fellow with Hillel at Virginia Tech in the 2005-2006 year. She currently lives in Arlington, VA with her husband, Garry.
Liane Aaron, Bar/Bat Mitzvah Academic Coordinator
laaron@bnaitzedek.org Ext. 324
As B'nai Mitzvah Coordinator since 1999, Liane sees to it that each and every child in the B'nai Mitzvah program works to their full potential to prepare and participate in our services on the day they become a Bar or Bat Mitzvah hopefully instilling a sense of community and belonging. Liane grew up locally in Potomac, and attended Churchill High School and the University of Maryland where she graduated with a degree in Journalism and Public Relations. She has been a B'nai Mitzvah Educator for more than 30 years.
Laurie Greene, Executive Assistant to The Clergy
rassistant@bnaitzedek.org Ext. 301
Laurie Greene joined B'nai Tzedek in 2017. She is a native Marylander having grown up in Rockville and now resides in Frederick, MD. She has a daughter, Jordan, who resides in Oregon with her husband and a son, Conner, who is a student at Frederick Community College. She is an avid sports enthusiast who follows the Washington Nationals baseball and the Tampa Bay Lightning Hockey teams.
Roger Gomez, Building Engineer
rgomez@bnaitzedek.org Ext. 317
Roger Gomez joined B'nai Tzedek in 1997. He knows everything about our building! Roger just became a proud grandpa! Roger and his staff keep our building and grounds looking beautiful, do the setups for all of our events, services and classes, and always have a pleasant demeanor with congregants and guests.
Fri, March 5 2021
21 Adar 5781
COVID-19 FORMS
WAIVER: Each adult needs to complete a waiver before entering the synagogue grounds and building. One parent should include the children on their form. Print this form and send to the synagogue or bring it with you.
HEALTH QUESTIONNAIRE: Everyone should bring the following Covid Health Questionnaire with them each time they come to the synagogue. Print this form and bring it with you.
COVID RESTRICTED TRAVEL: Which states has Maryland place on the travel restriction list. Click for more information.
Mazel Tov Us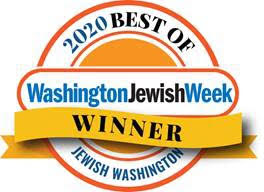 Best Of...
Preschool
Hebrew School
Family-Friendly Shabbat
Special Needs Shabbat
Kiddush
Fri, March 5 2021 21 Adar 5781