Hazak
Hazak
Hazak is an acronym. The het stands for Hokhmah/wisdom, the zayin for Ziknah/maturity, and the kuph for Kadima/looking ahead. We are a social group for the retired members of B'nai Tzedek and come together monthly. We enjoy a variety of social and educational programs, such as holiday celebrations, authors, historians, speakers from the National Cryptologic Museum and local historical societies, tours of local art museums. We infuse each meeting with fun, food and friends.
Fri, August 19 2022
22 Av 5782
JOIN OUR SERVICE
Service Schedule
Monday - Thursday night 7:00 pm
Wednesday mornings at 8:00 am
Friday night at 6:30 pm
Saturday mornings at 9:30 am.
Mazel Tov Us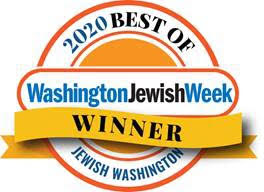 Best Of...
Preschool
Hebrew School
Family-Friendly Shabbat
Special Needs Shabbat
Kiddush
Fri, August 19 2022 22 Av 5782