Yizkor
B'NAI TZEDEK YIZKOR MEMORIAL PRAYER AND YAHRZEIT ACKNOWLEGMENTS
The Yizkor Memorial Prayer is recited four times each year, on the holidays listed below, and on the Yahrzeit of our loved ones:
Yom Kippur Morning
Shemini Atzeret
Passover (7th day)
Shavuot (1st day)
IN TIMES OF SORROW
In the case of the death of an immediate family member, please call the synagogue during working hours, or the emergency number (240-418-5503). We can assist you in contacting the funeral home, the rabbi and the congregation, and in making funeral and shiva arrangements. The synagogue office will contact you with reminders of your family's Yahrzeits (anniversary dates).
Thu, March 4 2021
20 Adar 5781
COVID-19 FORMS
WAIVER: Each adult needs to complete a waiver before entering the synagogue grounds and building. One parent should include the children on their form. Print this form and send to the synagogue or bring it with you.
HEALTH QUESTIONNAIRE: Everyone should bring the following Covid Health Questionnaire with them each time they come to the synagogue. Print this form and bring it with you.
COVID RESTRICTED TRAVEL: Which states has Maryland place on the travel restriction list. Click for more information.
Mazel Tov Us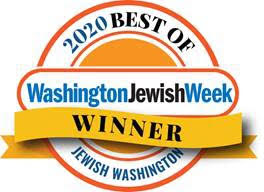 Best Of...
Preschool
Hebrew School
Family-Friendly Shabbat
Special Needs Shabbat
Kiddush
Thu, March 4 2021 20 Adar 5781