Memorial Plaque
Memorial Plaque
Honor your departed loved ones in perpetuity.
The righteous shall be had in everlasting remembrance" Psalms 112:6
Congregation B'nai Tzedek affords those who have lost a loved one the opportunity to perpetuate the cherished memory of their departed by donating a Yahrzeit Memorial Plaque.
There is no more fitting way to commemorate your loved ones then by inscribing their names on the Burthoff Yahrzeit Memorial Wall located in the Gereem Family Lobby.
PAYMENT:
Your Yahrzeit Memorial Plaque Agreement must be accompanied by your payment of $500.
PLACEMENT OF PLAQUES:
Individual name plaques will be placed on the Memorial Board in the order in which they are received. It is possible, however, to place the plaques of family members together if the family so requests.
FOR FURTHER INFORMATION
Contact our Executive Director: Scott Katz
Congregation B'nai Tzedek Memorial Plaque
✡ Perpetuate the name and memory of your loved one with a memorial plaque.
✡ The Memorial Plaques are mounted on the Burtoff Yahrzeit Memorial Wall.
✡ Each nameplate is inscribed with the name of the departed in English and Hebrew along with the English date of death and Hebrew Yahrzeit month and day.
✡ At the side of each nameplate, there is a Memorial Light, which is lit each year on the Yahrzeit and Yizkor commemorations.
✡ The name of the departed inscribed on the Memorial Plaque is published annually at Yom Kippur in the B'nai Tzedek Book of Remembrance.
✡ This memorialization will insure that your departed will be honored perpetually on the appropriate occasions every year.
Wed, June 23 2021
13 Tammuz 5781
COVID-19 FORMS
WAIVER: Each adult needs to complete a waiver before entering the synagogue grounds and building. One parent should include the children on their form. Print this form and send to the synagogue or bring it with you.
HEALTH QUESTIONNAIRE: Everyone should bring the following Covid Health Questionnaire with them each time they come to the synagogue. Print this form and bring it with you.
COVID RESTRICTED TRAVEL: Which states has Maryland place on the travel restriction list. Click for more information.
Mazel Tov Us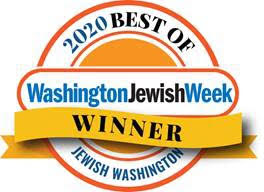 Best Of...
Preschool
Hebrew School
Family-Friendly Shabbat
Special Needs Shabbat
Kiddush
Wed, June 23 2021 13 Tammuz 5781