Our Classes
Our Classes
WE ARE PROUD TO OFFER THE FOLLOWING CLASSES AT THE B'NAI TZEDEK GREENZAID ECC FOR 2020-2021:
Chavrei Doobim (Bear Friends):
15-24 months, 3 mornings: Tuesday, Wednesday, & Friday, 9:15 am - 12:30 pm
Currently combined with our Chaverim Class.
Chaverim (Friends): Two year olds, 3 or 5 mornings: Monday, Wednesday, Friday, 9:15 am - 1:00 pm
Taught by Netali Goldman, Tali Kovich and Saba Debebe
Netali is thrilled to be a part of the GECC team! For the last 15 years she has worked within the early education field, with 12 of those years working primarily with two year olds. While she has spent the last 19 years living in Maryland, she grew up living from one place to another with her family as her father proudly served in the American Army. She believes that moving around has helped her adaptability and spontaneity, which has proven an important trait needed in the classroom, especially when educating young children. She has a Master's Degree in Education with a Concentration in Curriculum and Instruction in Early Childhood Education from Concordia University. Additionally, she speaks Hebrew fluently, a skill acquired all thanks to her Israeli parents, primarily her mother. She is married with 5 cats and 2 children, both who attend the GECC. Nili is in the Pandot and Kai in the Doobim. When Netali is not working, she enjoys spending time with friends and family, being with her children, and relaxing at the beach.
Tali was born in Israel where she studied nursing and served in the Israeli military. This will be her 12th year working with the 2's at the GECC. Tali is the proud mother of 3 boys.
Saba was born in Ethiopia. She came to the US 27 years ago. Her degree is in child development with a focus as a preschool teacher. She has worked as a preschool teacher for 20 years with different age groups. Saba is married for 20 years and has 3 beautiful children. She is looking forward to working at the GECC with the little ones.
Chavrei Pandot (Panda Friends): Three year olds, 5 days: 9:15 am - 1:00 pm
Taught by Kuhoo Rattan, Ale Almeida and Bonnie Altneu
Kuhoo Rattan was born in India, grew up in England for a few years and moved to the States (specifically outside of Philadelphia) at 9. She got her B.A. in Environmental Studies, before doing a year of service with City Year, an AmeriCorps program. She has a Master's Degree in Elementary Education from American University. She was a former 2nd-grade teacher before moving onto a Reggio Based Jewish preschool. For the last two years, she worked with pre-k and 3-year-old classrooms at Temple Emanuel. In her spare time she enjoys doing creative projects such as dance, singing, writing and shooting short education videos for her YouTube channel.
Ale Almeida is very happy to be teaching at the GECC! She has been working with children for over 14 years, in teaching and developing educational programs. Her degrees are in Education, Pedagogy and Special Eduation. In addition, she has post-grad studies in psycho-pedagogy with emphasis on early childhood education. She grew up in Rio de Janeiro, Brazil and moved to Maryland in 2015. She lives in Clarksburg with her husband Alex and her daughter Bruna who will be a freshman in college this year. In her free time, she enjoys spending time with family, including her two dogs, Lilica and Astro. She also enjoys dancing, exercising and going to the beach.
Bonnie has a Bachelor of Science degree in Early Childhood Education. This will be her fifth year of teaching the Pandot class. She has two children: a daughter starting college at the University of Maryland and a son beginning 10th grade at Richard Montgomery High School. In her spare time, she enjoys watching movies and playing games with her family.
Chavrei Keshet (Rainbow Friends): Pre-K, 5 days: 9:15 am - 1:00 pm
Taught by Liz Sander, Yafa Edery and Julia Camarillo.
Liz has been teaching in Jewish preschools for 18 years. During her free time you can find her in the gym, swimming or walking and playing with her dog. She is married and has a son in college.
This is Yafa's 26th year as a teacher in the Pre-K class. She also teaches kindergarten and 3rd grade in the B'nai Tzedek Religious School. Yafa moved to the DC area over 30 years ago from Be'er Sheva.
Julia was born in Mexico. She came to the US in 2016. She is highly adaptable with years of elementary educational experience. She has proven knowledge of classroom management, instructional programming and classroom safety. Julia aims to leverage her professional teaching skills and etiquette to successfully enable children to learn and grow.
Click here to read our Inclusion Policy.
Thu, March 4 2021
20 Adar 5781
COVID-19 FORMS
WAIVER: Each adult needs to complete a waiver before entering the synagogue grounds and building. One parent should include the children on their form. Print this form and send to the synagogue or bring it with you.
HEALTH QUESTIONNAIRE: Everyone should bring the following Covid Health Questionnaire with them each time they come to the synagogue. Print this form and bring it with you.
COVID RESTRICTED TRAVEL: Which states has Maryland place on the travel restriction list. Click for more information.
Mazel Tov Us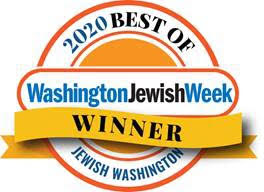 Best Of...
Preschool
Hebrew School
Family-Friendly Shabbat
Special Needs Shabbat
Kiddush
Thu, March 4 2021 20 Adar 5781