Our Classes
Our Classes
The Greenzaid Early Childhood Center (ECC) Classroom Offerings for the 2021-2022 School Year
The Greenzaid ECC, voted Best Jewish Preschool by Washington Jewish Week, offers a variety of classes to accommodate even the youngest early learners. The Greenzaid ECC, nestled in a beautiful natural wooded setting in Potomac, Maryland, offers individualized attention through our small class size and skilled and caring teachers. Through child centered explorations, our play-based Reggio inspired preschool program promotes early problem solving, critical thinking and creative freedom.
Jewish traditions, culture and values are introduced and experienced at the Greenzaid ECC through the richness of music, songs, stories, creative projects and clergy interactions. Age appropriate and engaging, our program strives to instill a love of Judaism as well as a love of learning.
To schedule a tour or for more information, please contact Jane Greenblatt, Director at 301-299-1149 x329 or email jgreenblatt@bnaitzedek.org.
15 – 24 months by September 1st
3 days a week (Tu, W, F) 9:15am – 12:30pm
Your child's first steps into preschool
The Greenzaid ECC understands the importance of introducing your child to the early childhood educational experience in a nurturing and engaging environment. The Greenzaid ECC Transitional Two's program, for our youngest learners is led by experienced, warm and caring teachers, helps lay the foundation for a successful and enriching preschool experience.
Offering a variety of activities, from dramatic play, creative arts, music, early literacy and movement, our toddlers start to develop an appreciation of a daily schedule and social interactions. Teachers begin to establish predictable daily routines allowing children to feel safe
"My son has blossomed in the transition twos, he can't wait to come to school each day! His social, language and motor skills have grown beyond my expectations. He is so ready for next year!" – N. Goldman
Children turning 2 by September 1st
3 or 5 days a week 9:15am – 1:00pm
Busy, curious and ready for anything
Curious and active two-year-olds need time to explore, interact, engage and observe. The Greenzaid ECC provides opportunities for independence as well as group work. Activities are designed to enhance early small and gross motor skills, as well as practice social emotional skills through modeling and scaffolding.
In the two's classroom, our program introduces Jewish Holidays and traditions in an interactive and nurturing environment through song, stories and art which help to create a lifelong love of Jewish values and customs.
"The Greenzaid Early Childhood Center preschool program has been fantastic for our family. The twos and threes teachers have helped make preschool so fun and enjoyable. My children are learning, smiling and growing more confident each and every day! I would highly recommend the Greenzaid ECC preschool program and I am so very thankful for the structured Covid policies they have in place." – Shanan B.
Children turning 3 by September 1st
3 or 5 days a week 9:15am – 1:00pm
Growing self-help skills, problem solving and friendships
Ready for additional independence and challenges, the Greenzaid ECC three-year-old program offers children a variety of opportunities to problem solve, work cooperatively in a group and shine independently. Children are introduced to new responsibilities and options in their daily schedules. Turn-taking, communication skills and sharing are emphasized to help promote thoughtful and productive relationships.
The Greenzaid ECC three's program understands that three-year-old children are forming true friendships, and design our classroom activities to help promote these relationships. Children are introduced in a thoughtful way to the ideas of Tzedakah, caring for one another and the community. The three's continue to experience Jewish traditions through the richness of music and story.
"Thank you. Thank you. Thank you. Thank you for all you've done for Miller this entire year and a special thank you for going over and above these past two months. I know we keep saying it, but we can't say it enough, we are beyond appreciative to have found GECC and that Miller has you all in his life. You all are truly gifted educators and special people and we can't wait until the day soon that Miller gets to spend time with you in person again. Please know we recognize all of your hard work and dedication and you are our heroes!" - Laura C.

Children turning 4 by September 1st
5 days a week 9:15am – 1:00pm
Instilling confidence, independence and tools for success
The focus of the Greenzaid ECC four's program prepares children with the skills necessary to ensure they are successful, happy and well-equipped for their next step. Whether they are heading to kindergarten or our transitional kindergarten program, the Greenzaid ECC works with each child on literacy, letter and word recognition, mathematics, science and problem solving. In addition, and equally important, careful attention is made to ensure they can express themselves and interact positively with others. Promoting independence and self-reliance to insure confidence and success are important goals for the fours classroom.
"I want to take a moment to thank you for all that you do every day with the Keshet (4's) class and enrichment.
Jordana is SO happy in your class- she adores you both and she is learning so much. Every day she tells us what she is learning. Her face lights up when she talks about you and how much she is enjoying school. Your consistent warmth, enthusiasm for teaching, patience, and insight in running the Keshet class is incredible. The kids are so happy together and so happy with you both. It is so evident how much you care about each child and as a result, there is such a clear cohesiveness and joy in your class. We are beyond grateful to you both as the smartest and kindest teachers, and friends.
Cheers to the DREAM TEAM!!!" - Lauren & Daniel
Transitional Kindergarten
Designed for Children who have completed a fours program
5 days a week 9:30am – 2:30pm
Providing a bridge from preschool to kindergarten
The Greenzaid ECC's Transitional Kindergarten (Gesher) program is the perfect fit for children who may not yet be ready for kindergarten, but require a more challenging and developmentally appropriate experience. Serving as a Bridge between preschool and elementary education, this class prepares students for the challenges of kindergarten.
Taught by highly qualified and experienced teachers, we combine self-initiated play and exploration, small group work as well as teacher directed activities for a well-rounded day. The rich classroom environment is set up to maximize learning opportunities in all domains including math, literacy, science, creative thinking, art and physical development. Academics include formal literacy and math, critical thinking, STEM and scientific hypothesis forming.
In the Gesher classroom children will continue to build self-help skills, conflict resolution, taking ownership of our classroom and respecting others. Building confidence and resiliency while possessing positive social-emotional communication skills is vital to a successful school experience.
In the tradition of the Greenzaid Early Childhood Center and B'nai Tzedek, the Transitional Kindergarten program will continue to embrace Jewish values and tradition, taking a deeper exploration into the meaning of Tzedekah, through classroom projects and Hebrew language learning through play and literacy.
Sat, May 15 2021
4 Sivan 5781
What's Happening at CBT
All Events
Sunday

,

May

May

16

,

2021

Last Day of Sunday Religious School (Gr. K-6)


Sunday, May 16th

9:00a

to

12:00p




Sunday

,

May

May

16

,

2021

Shavuot Under the Stars "Sources of Healing and Hope" with Congregation Har Shalom


Sunday, May 16th

7:00p

to

10:00p




Wednesday

,

May

May

19

,

2021

Wise Aging JSSA Support Group


Wednesday, May 19th

1:00p

to

2:00p




An opportunity to share and discuss challenges and opportunities presented by new phases in our lives.

Wednesday

,

May

May

19

,

2021

Upper School End of Year Celebration!


Wednesday, May 19th

7:00p

to

8:15p




Thursday

,

May

May

20

,

2021

Torah Study with Rabbi Weinblatt


Thursday, May 20th

9:30a

to

10:30a




We will pick up the story of King David with II Samuel Chapter 13 and conclude the Second Book of Samuel.

Thursday

,

May

May

20

,

2021

Bedtime stories, songs and Shema with Rabbi Tow


Thursday, May 20th

7:00p

to

7:15p




Say Laila Tov with songs, stories and the Shema.

Friday

,

May

May

21

,

2021

Shabbat Sing with Cantor Kapell


Friday, May 21st

10:00a

to

10:15a




Join the fun and get ready for Shabbat with singing and dancing!

Friday

,

May

May

21

,

2021

RS: Chagigat HaSiddur 4th Grade Consecration- Group Alef


Friday, May 21st

6:30p

to

7:30p




Saturday

,

May

May

22

,

2021

Brent Langer Bar Mitzvah
Shabbat, May 22nd (All day)


Sunday

,

May

May

23

,

2021

Abraham Accords with Mark Vandroff


Sunday, May 23rd

7:30p

to

8:30p




We welcome Mark Vandroff, a senior director for defense policy at the National Security Council and a retired Navy captain. He was involved in negotiating the Abraham Accords, the normalization agreement between Israel and the United Arab Emirates which has since come to include Bahrain, Sudan, and Morocco as well.
COVID-19 FORMS
WAIVER: Each adult needs to complete a waiver before entering the synagogue grounds and building. One parent should include the children on their form. Print this form and send to the synagogue or bring it with you.
HEALTH QUESTIONNAIRE: Everyone should bring the following Covid Health Questionnaire with them each time they come to the synagogue. Print this form and bring it with you.
COVID RESTRICTED TRAVEL: Which states has Maryland place on the travel restriction list. Click for more information.
Mazel Tov Us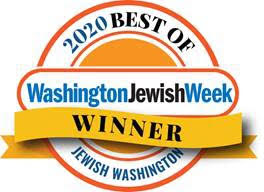 Best Of...
Preschool
Hebrew School
Family-Friendly Shabbat
Special Needs Shabbat
Kiddush
Sat, May 15 2021 4 Sivan 5781