Greenzaid ECC
Greenzaid ECC - About Us
A Beautifully Natural Learning Environment. The Ideal Setting For Young Minds To Grow.
Located in a beautiful wooded setting with expansive grounds unlike any other in the D.C. area, the B'nai Tzedek Greenzaid Early Childhood Center (ECC) is an extraordinary community of children, parents, teachers and staff who, in a most unique way, collaborate to cultivate your child's love of learning. Our innovative play-based curriculum is inspired by the teaching of the Reggio Emilia philosophy and customized instruction for the needs of every child. We recognize this as an opportunity to shape your child's love of learning and nurture their physical, cognitive, social and emotional growth as well as their connection to Jewish values and traditions. The children celebrate Shabbat and Jewish holidays with the clergy, and Jewish experiences are woven into the curriculum. Our teachers are highly experienced, with degrees in early education and an appreciation for what every child needs to learn, thrive and have fun.
Together with the Levin family to honor the memory of Robert Levin we created a nature-based playground. Children who play in natural settings play in more diverse, imaginative and creative ways. Come see for yourself how our beautiful new play space engages your children.
We Invite You to Stop In
The best way to experience the uniqueness of our school is to visit. We invite you to stop in and see for yourself what makes the Bnai Tzedek Greenzaid ECC so special. To schedule a tour or for more information, please contact Jane Greenblatt, Director at 301-299-1149 x329 or email jgreenblatt@bnaitzedek.org. We look forward to welcoming you to our very special school and community.
Best Of Preschool
Sat, May 15 2021
4 Sivan 5781
What's Happening at CBT
All Events
Sunday

,

May

May

16

,

2021

Last Day of Sunday Religious School (Gr. K-6)


Sunday, May 16th

9:00a

to

12:00p




Sunday

,

May

May

16

,

2021

Shavuot Under the Stars "Sources of Healing and Hope" with Congregation Har Shalom


Sunday, May 16th

7:00p

to

10:00p




Wednesday

,

May

May

19

,

2021

Wise Aging JSSA Support Group


Wednesday, May 19th

1:00p

to

2:00p




An opportunity to share and discuss challenges and opportunities presented by new phases in our lives.

Wednesday

,

May

May

19

,

2021

Upper School End of Year Celebration!


Wednesday, May 19th

7:00p

to

8:15p




Thursday

,

May

May

20

,

2021

Torah Study with Rabbi Weinblatt


Thursday, May 20th

9:30a

to

10:30a




We will pick up the story of King David with II Samuel Chapter 13 and conclude the Second Book of Samuel.

Thursday

,

May

May

20

,

2021

Bedtime stories, songs and Shema with Rabbi Tow


Thursday, May 20th

7:00p

to

7:15p




Say Laila Tov with songs, stories and the Shema.

Friday

,

May

May

21

,

2021

Shabbat Sing with Cantor Kapell


Friday, May 21st

10:00a

to

10:15a




Join the fun and get ready for Shabbat with singing and dancing!

Friday

,

May

May

21

,

2021

RS: Chagigat HaSiddur 4th Grade Consecration- Group Alef


Friday, May 21st

6:30p

to

7:30p




Saturday

,

May

May

22

,

2021

Brent Langer Bar Mitzvah
Shabbat, May 22nd (All day)


Sunday

,

May

May

23

,

2021

Abraham Accords with Mark Vandroff


Sunday, May 23rd

7:30p

to

8:30p




We welcome Mark Vandroff, a senior director for defense policy at the National Security Council and a retired Navy captain. He was involved in negotiating the Abraham Accords, the normalization agreement between Israel and the United Arab Emirates which has since come to include Bahrain, Sudan, and Morocco as well.
COVID-19 FORMS
WAIVER: Each adult needs to complete a waiver before entering the synagogue grounds and building. One parent should include the children on their form. Print this form and send to the synagogue or bring it with you.
HEALTH QUESTIONNAIRE: Everyone should bring the following Covid Health Questionnaire with them each time they come to the synagogue. Print this form and bring it with you.
COVID RESTRICTED TRAVEL: Which states has Maryland place on the travel restriction list. Click for more information.
Mazel Tov Us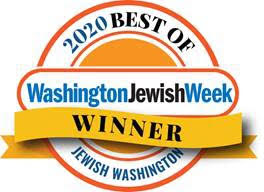 Best Of...
Preschool
Hebrew School
Family-Friendly Shabbat
Special Needs Shabbat
Kiddush
Sat, May 15 2021 4 Sivan 5781