Rabbi's Book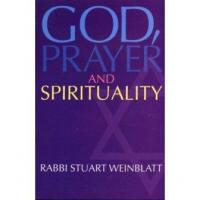 Rabbi Stuart Weinblatt's collection of sermons from his book, "God, Prayer and Spirituality," is available for purchase from www.levinejudaica.com, www.amazon.com, or the synagogue office.
Testimonial: Inspiring, enlightening
Rabbi Stuart Weinblatt, by publishing the collection of his droshes (sermons), has done a mitzvah by making his thoughts and observations available to a broad audience ("Weinblatt Compiles Sermons into Book," Washington Jewish Week, October 23, 2008).
Rabbi Weinblatt's sermons, particularly those from the High Holiday, are extremely inspiring and enlightening.
His opinions encourage and uplift the people who have the opportunity to listen to and read his eloquent stories (frequently with humor).
Stuart Weinblatt's compilation of his droshes is a wonderful gift to us by a wonderful rabbi and community leader.
I wish him hatzlacha (success).
Herman Taube
Rockville
Tue, September 22 2020
4 Tishrei 5781
High Holiday Mahzor
Purchase a digital mahzor for $5.99: Purchase digital mahzor
Complimentary - Borrow and return to B'nai Tzedek. Please note by borrowing a mahzor you are committing to paying a $60 replacement fee per book if nor returned in good shape. Borrow a mahzor
UPCOMING EVENTS
All Events
Wednesday

,

Sep

September

23

,

2020

Israel Affairs Lecture


Wednesday, Sep 23rd

8:00p

to

9:00p




My Israeli Journey - How My Fulbright Experience Changed My Life and Many Others
There's something for everyone at B'nai Tzedek!
Tue, September 22 2020 4 Tishrei 5781