Building A Preschool Community
Building A Preschool Community
FAMILY
As family is the foundation of Jewish life, our school partners with parents to nurture Jewish growth for both children and parents, with shared experiences such as Friday Morning Family Shabbat Sing, special Shabbat evening experiences such as S'mores Shabbat, enjoying holidays together, and taking time to get together socially to bake challah, study torah, and enjoy parents nights outs.
PARENT COMMI
TTEE
Our active parent committee meets regularly to discuss ways we can enhance our children and families' experiences at the B'nai Tzedek Greenzaid ECC. All parents are welcome and encouraged to become involved. We meet every other month to lend support to the Early Childhood Center and the Director. The Committee is involved in many aspects of the school including fund-raising, children's programming, and social events. Parent input is also sought for policy/procedure development. Please contact Amy Stolker for more information.
WHAT PEOPLE ARE SAYING
"Imma, I don't want to graduate. No school could be better than my school now."
"From the first day that we walked into the preschool, the B'nai Tzedek Greenzaid ECC has felt like a second home for my son. The teachers are all so loving and warm and qualified…we're so grateful for each day he's here."
"I'm so pleased my son feels so comfortable at school and that is a direct result of hard work from the teachers to create a warm, loving, safe and interesting environment for our children."
"Over the past three years, our children have formed great friendships at the B'nai Tzedek Greenzaid ECC. But equally important, we have too."
To schedule a tour or for more information, please contact Jane Greenblatt, Director at 301-299-1149 x329 or email jgreenblatt@bnaitzedek.org.
Sun, November 28 2021
24 Kislev 5782
JOIN OUR SERVICE
Service Schedule
Monday - Thursday night 7:00 pm
Wednesday mornings at 8:00 am
Friday night at 6:30 pm
Saturday mornings at 9:30 am.
A digital copy of Siddur Sim Shalom is available
HERE
.
Mazel Tov Us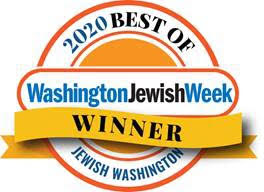 Best Of...
Preschool
Hebrew School
Family-Friendly Shabbat
Special Needs Shabbat
Kiddush
Sun, November 28 2021 24 Kislev 5782