Passover
Siyum, Wednesday, April 5th 9:00 am
Traditionally, the first born should fast the day before Passover. In order to circumvent the fast, it is customary to finish a Talmud tractate or study a special text.
Thursday, April 6th 9:30 am
First day of Passover service
Friday, April 7th 6:30 pm
Family-friendly Shabbat & Birthday Blessings with special Passover treat
Saturday, April 8th 9:30 am
Shabbat morning Service
Tuesday, April 11th 6:30 pm
Passover Service
Wednesday, April 12th 9:30 am
Concluding Passover service with Yizkor Memorial Prayers
Please note that there will not be online minyan on Wednesday, April 5th.
Passover Closures
Religious School: April 2-13
GECC: April 5-14
Office: April 5th at 3:00 pm, April 6th & April 7th
Rabbi Werbin is designated to act as the agent for members of Bnai Tzedek, to sell their remaining chametz to a non-Jew, who makes a small down payment and purchases it before Pesach. After the final day, April 13, 2023, Rabbi Werbin will ask for the balance. If he/she does not wish to pay the full amount, he/she sells it back to us through the Rabbi. To learn more, please visit
www.RabbinicalAssembly.org
and search "Hameitz: Laws and Customs".
To observe this important tradition, you may designate Rabbi Werbin as your agent for the selling of chametz by clicking
here
to complete the form by Thursday, March 30.
Songs for the Seder
Click below to listen to some traditional songs for the seder.
Adir hu
Avadim Hayinu
Eliyahu Hanavi
Ha lach ma
L'Shana Haba'a
Order of Seder
Psalm 113
Senior Rabbi Search
The Senior Rabbi Search process is underway. We want to hear what each of our members is looking for in our next Senior Rabbi. Every voice has meaning and is important to us. We will be conducting focus groups to hear from everyone. Click HERE for updates and to sign up for a Focus Group.
---
Monday, May 15, 2023
Lakewood Country Club
Honoring The "Fab Four"
Herbie Cherner, Sy Zuckerman, Marvin Menick and Saul Schweber
2023 Confirmation Class Trip
Confirmation Class had a great trip to New York with Rabbi Weinblatt in February. Check out some of the photos!
Do You Want To Watch Services?
Use the following link for virtual Shabbat Services:
REMINDER: SHABBAT SERVICES ARE NOW HELD LIVE AT CBT, NO RESERVATION REQUIRED.
Click here to access the virtual weekday Minyan services on Zoom, password required. If you need the password, please contact our office at 301-299-0225.
Check Out Our Year in Review Videos!
GECC Pre-School, A Look Back...
Religious School Year in Review 2021-2022
Farewell to Our Shlicha, Talia Garber
May 2022 Israel Trip
Shalom from Rabbi Weinblatt in Israel!
Read some of the highlights of the May 2022 Israel trip on the blog HERE.
Welcome To B'nai Tzedek, A Modern Conservative Synagogue
Fri, March 31 2023
9 Nisan 5783
Senior Rabbi Search
The Senior Rabbi Search process is underway. Click HERE for updates and to sign up for a Focus Group.
Join Our Services
Service Schedule
Minyanim:
Monday - Thursday night 7:00 pm & Wednesday mornings at 8:00 am
via Zoom -
Click Here
(contact the front office for password).
Wednesday morning in-person at 8:00 am.
Shabbat Services
Friday night at 6:30 pm
Saturday mornings at 9:30 am.
Mazel Tov Us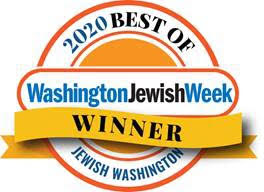 Best Of...
Preschool
Hebrew School
Family-Friendly Shabbat
Special Needs Shabbat
Kiddush
Fri, March 31 2023 9 Nisan 5783