2020-2021 Religious School Registration
2020-2021 RS Registration
Religious School 2020-2021 Registration
Kindergarten-10th Grade

Welcome to the registration page of our 2020-2021 online registration for The Bernice & Mannie Rabovsky Religious School at Congregation B'nai Tzedek. There are exciting plans in the works for in-person learning, virtual learning, or a blending of the two, as we continue to create Jewish learning that is meaningful to our students and families, relevant to their lives and interests, and fun. As we know more about how the secular schools will be functioning next year, we will clarify our plans and let you know.
Please complete this registration as soon as possible to help us ensure we are able to have appropriate staffing and materials to educate all children at the start of the school year. Deadline to qualify for early bird registration discount has now been extended to June 30, 2020. Registering before you transition to your summer schedule is hugely important, so please click below to take advantage of the early bird savings and sign up today for what promises to be a great year!
Religious School meets on the following schedule:

The opening day of Religious School is Sunday, September 13, 2020.
3rd through 6th Grades Midweek Hebrew
One important thing has changed for this year's registration process. We are not asking our parents of third through sixth graders to choose Small Group sessions at this time. Few if any of us know what schedules will look like. Please register now, indicating Small Groups, Private Tutoring, or unsure, and we will gather your preferences for timing as the summer unfolds and information becomes available.
For students in grades 3-6, even though you're not sure about your child(ren)'s schedule for the fall, please register so that we know your children are coming! In August, all families will receive information about sessions and have an opportunity to indicate the days and times that work for each child's schedule.*
*After you register, please complete the following form(s) if your child is in Gr. K-2 or Gr. 3-6:

Gr. K-2: https://www.bnaitzedek.org/form/rs-gr.-k-2-sunday-preference-2020-2021-form.html
Gr. 3-6: https://www.bnaitzedek.org/form/rs-grade-3-6-hebrew-2020-2021-form.html
Tuition & Fees
Tuition and fees will not be raised for the 2020-2021 school year. Click here to view the Religious School tuition and fees. If you are interested in the Bernice & Mannie Rabovsky Religious School and you are not yet a member, please contact Ronni Ticker at rticker@bnaitzedek.org.
Those who register their child(ren) by June 30th will be billed an early bird activities and materials fee of $115 per student. Registrations received after June 30, 2020, will be billed the regular rate for the activities and materials fee of $130 per student.
Questions
If you have any questions, please do not hesitate to contact us at 301-299-9751 or via email for Beth Knobler, Administrative Coordinator, at bknobler@bnaitzedek.org or me at rticker@bnaitzedek.org.
Thank you very much for being a part of our community. We are excited to learn with your child this coming school year!
All the best,
Ronni D. Ticker
Director of Family and Youth Learning
Registration Form
To begin registration, please scroll down to the bottom of this note to the "click here to begin" button.
Here are some tips for successfully registering:
The form WILL ONLY let you continue when you have completed ALL fields marked with a red *. You may type N/A in any field which does not apply to your application.
The form will ask for health Insurance info, Doctor's name and phone, emergency contact information and permission to pick up, their names and contact info. Please have this information ready. If this information changes at any time, please email Beth with the updated information so she can update our records.

We are providing you with a list of possible uses of your child's image. If you don't want to let us use their image you must select which uses you wish us not to authorize. You must Opt-Out or we will assume that you have consented. If you are fine with all the items, you do not check the boxes.

Private tutoring is a great option for students who learn best in a one-on-one environment or have scheduling conflicts that do not allow them to attend on Tuesday or Wednesday for Small Groups. If you select Private Tutoring, Ronni will call you to help structure the best learning experience for your child.

Hebrew Small Group: Since we do not yet know whether or not we will be in the building next year or if some students prefer a remote learning environment, we have not delineated exact midweek schedules. As we know more about the 2020-2021 schedule, we will release that information to parents. Feel free to call Ronni in the interim to discuss your thoughts. UPDATE: After you register, please complete the following if your child is in Gr. 3 - 6: https://www.bnaitzedek.org/form/rs-grade-3-6-hebrew-2020-2021-form.html
You will receive a confirmation email once registration has been submitted. If you have not received one, the website might have timed out. If you are not sure that you have registered your child(ren), email Beth. Please keep in mind the RS Office is closed on Fridays.
Sat, April 17 2021
5 Iyyar 5781
COVID-19 FORMS
WAIVER: Each adult needs to complete a waiver before entering the synagogue grounds and building. One parent should include the children on their form. Print this form and send to the synagogue or bring it with you.
HEALTH QUESTIONNAIRE: Everyone should bring the following Covid Health Questionnaire with them each time they come to the synagogue. Print this form and bring it with you.
COVID RESTRICTED TRAVEL: Which states has Maryland place on the travel restriction list. Click for more information.
Mazel Tov Us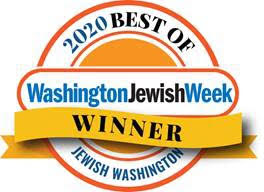 Best Of...
Preschool
Hebrew School
Family-Friendly Shabbat
Special Needs Shabbat
Kiddush
Sat, April 17 2021 5 Iyyar 5781